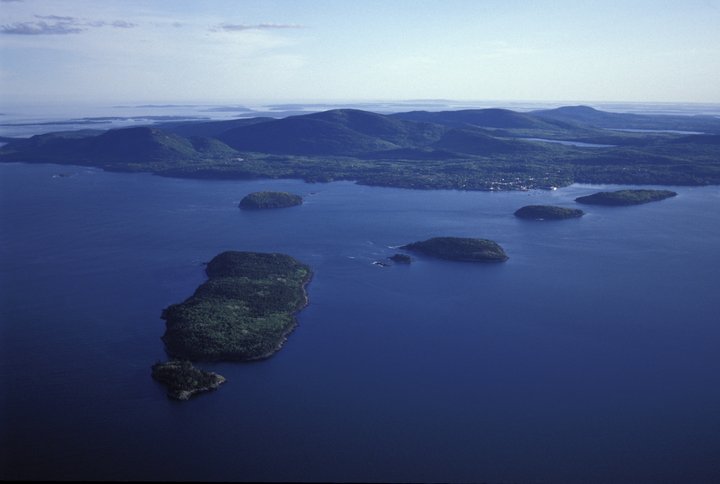 The Frenchman Bay we all love is facing a grave threat
A company called American Aquafarms, led by a man convicted of swindling investors in his home country of Norway, is seeking approval to build a massive industrial fish farm in Frenchman Bay. The company plans to raise 66 million pounds of salmon a year in 30 huge pens on two sites in the bay – one near Bald Rock; the other near the The Hop (off Long Porcupine).
Opposition to this proposal is uniting our Frenchman Bay community. We are coming together to stop this destructive project – those who earn their living on the bay, year-round and seasonal residents, and the many people who just enjoy the bay's clean waters and natural beauty!
How will this project harm the bay?
The company says it will be using what it calls "eco-friendly" pens, but this experimental technology never has been used on such a large scale anywhere in the world. In fact, there is only one such pen anywhere in North America. There are many risks, including:
Water pollution from millions of gallons of effluent produced by fish waste and feed Air and noise pollution from diesel generators that will be used to power pumps and lights Fish escapes, die-offs and disease that impact other species and organisms in the bay The loss of important ground for the bay's lobstermen and other fisheries
Threats to small-scale aquaculture already in the bay: mussel and oyster growers, and the largest organic kelp farm in North America
The destruction of majestic views that attract millions of visitors to Acadia National Park
What happens next?
American Aquafarms needs at least three approvals from state and federal regulators: • a lease for two 60-acre sites from the Maine Department of Marine Resources (DMR);
• a wastewater discharge permit from the Maine Department of Environmental Protection (DEP); and
• a permit to place their pens in navigable waters from the U.S. Army Corps of Engineers (USACE), which also is the coordinating agency for other federal agencies such as the National Park Service (NPS) and the Environmental Protection Agency (EPA).
Each of these agencies provides opportunities for public input through hearings and/or comment periods. American Aquafarms has already filed a "draft application" with DMR and has given notice that it intends to file a wastewater discharge application with DEP soon. As part of the DMR process, American Aquafarms will need to hold a "scoping session" to take public comment on its draft application before it can formally apply for leases.
You can sign up for alerts from DMR, DEP and other Maine agencies by going to: https://www.maine.gov/portal/subscriptions/email.html
You can follow Friends of Frenchman Bay on Facebook for information and updates. https://www.facebook.com/Friends-of-Frenchman-Bay-272353713176317/
Below are the three primary agencies involved in this process:
Maine Department of Marine Resources U.S. Army Corps of Engineers Patrick Keliher, Commissioner Jay L. Clement, Senior Project Manager 21 State House Station Maine Project Office Augusta, ME 04333-0021 442 Civic Center Drive, Suite 350 www.maine.gov/dmr/aquaculture/index.html Augusta Maine 04330 jay.I.clement@usace.army.mil
Maine Department of Environmental Protection
Melanie Loyzim, Commissioner
17 State House Station
28 Tyson Drive
Augusta, Maine 04333-0017
www.maine.gov/dep/contact/index.html
How you can help
We need people to actively engage in the application process by writing letters, speaking out at public hearings, and providing comments to the agencies involved. We also need to let our political leaders and the news media know how much opposition there is to this proposal. And please keep the discussion going on social media and in your personal networks. It all makes a difference.
Tell them about your personal connection to the bay – especially if you or family members earn a living on the water or from visitors to the area.
Let them know that lobstermen, clammers, mussel, oyster and kelp farmers, year-round and seasonal residents, tourists and tourism businesses, researchers and recreational boaters have all used, enjoyed and protected the bay for generations and that all of that – indeed the very health of the bay – is now threatened by this ill-conceived project.
Let them know that an industrial development like this has no place in the waters off Acadia National Park, a key driver of Maine's tourism economy and a crown jewel of the national park system. Millions of visitors from all over the world are drawn to down east Maine each year because of the park and the natural, unspoiled beauty of this area.
Governor and Congressional Delegation
Governor T. Janet Mills
1 State House Station
Augusta, ME 04333
207-287-3531
www.maine.gov/governor/mills/contact
U.S. Senator Angus King
202 Harlow St., Suite 20350
Bangor, ME 04401
Phone: (207) 945-8000
U.S. Rep. Chellie Pingree
2 Portland Fish Pier, Suite 304 Portland, ME 04101
(207) 774-5019
U.S Senator Susan Collins 202 Harlow Street, Room 20100 Bangor, ME 04401
Main: (207) 945-0417
www.collins.senate.gov/contact
U.S. Rep. Jared Golden
6 State Street, Suite 101
Bangor, ME 04401
(207) 249-7400
State Legislators who represent towns on the bay
Hancock County Gouldsboro, Hancock, Sorrento, State Sen. Louis Luchini Sullivan, Winter Harbor P.O. Box 1311 State Rep. William "Billy Bob" Faulkingham Ellsworth, ME 04605 P.O. Box 121
(207) 664-4699 Winter Harbor, ME 04693 Louis.Luchini@legislature.maine.gov Cell: (207) 460-6967
William.Faulkingham@legislature.maine.gov
Bar Harbor, Lamoine, Mt. Desert Trenton
State Rep. Lynne Williams Rep. Nicole Grohoski
13 Albert Meadow P.O. Box 1732
Bar Harbor, ME 04609 Ellsworth, ME 04605
Cell: (207) 266-6327 Cell: (207) 358-8333
Lynne.Williams@legislature.maine.gov
Nicole.Grohoski@legislature.maine.gov
Town governments
https://www.gouldsborotown.com
http://sorrentomaine.blogspot.com/p/town-office-info.html
News media
Bangor Daily News
Portland Press Herald/Maine Sunday Telegram
https://www.pressherald.com/reader-services/letters-editor/
The Ellsworth American
news@ellsworthamerican.com
(350-word limit for letters)
Mount Desert Islander
news@mdislander.com
(350-word limit for letters; 500 for op-eds)
____________________________________________________
This document has been prepared in cooperation with Save the Bay, Friends of Frenchman Bay, Protect Maine's Fishing Heritage and other organizations and individuals who are opposed to an industrial salmon farm in Frenchman Bay. It will be updated periodically. (3/30/21)