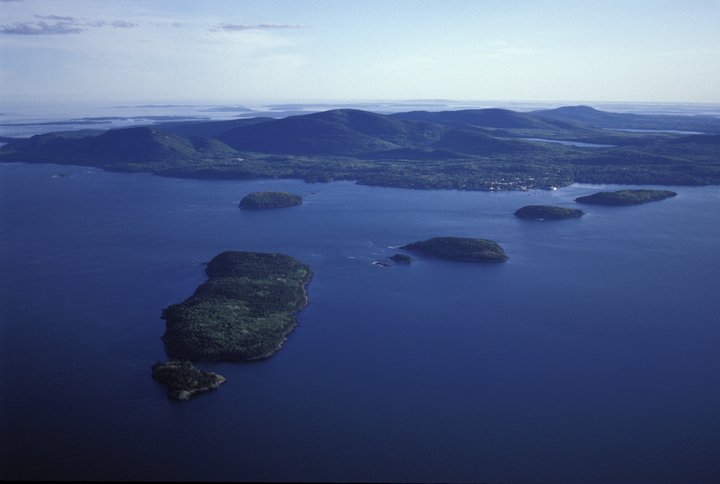 Frenchman Bay United
An update on the opposition to American Aquafarms
May 12, 2021
The opposition to American Aquafarms' plans to build a massive industrial salmon farm in Frenchman Bay is growing larger by the day. We've got websites, videos, signs and lots more in the works. For now, here is a quick update on what is going on and how you can help.
Maine Department of Environmental Protection (DEP)
Thanks to everyone who participated in the "public informational meeting" on May 6th. Although the company wouldn't let us see each other (we now know 173 people signed in), lots of good questions were asked and no one in the three-hour meeting expressed support for the project.
What's next?
• Once American Aquafarms submits its wastewater discharge applications to the DEP, there will be a public comment period. We'll let you know when that starts and ends.
• Once the wastewater discharge application is accepted by DEP for processing, the public will have 20 days to request a public hearing, which is held at the discretion of the DEP. We need to let the DEP know that a public hearing is absolutely needed!
Maine Department of Marine Resources (DMR)
American Aquafarms submitted its draft application to lease 120 acres in Frenchman Bay to the DEP in early March. The draft application still has not been posted on the DMR website, which means that DMR staff have not been able to review it or it has not yet been accepted.
What's next?
• Once the draft lease application has been accepted, the company will be required to host a "scoping session", similar to the DEP's public informational session, to explain the application and take questions. After that, the company will finalize and its lease application and a public comment period will open. Stay tuned.
U.S. Army Corps of Engineers (USACE)
The USACE must grant a permit allowing the company to place its massive pens and other structures in the waters of the bay. It also coordinates with other federal agencies that have an interest in the project, such as the National Park Service due to the proximity to Acadia.
There hasn't been any public activity yet, but many individuals and groups have already written to the Corps to request a full Environmental Impact Statement (EIS), a comprehensive review that outlines the full impact of a proposed project on its surrounding environment. Unlike permits that look at individual impacts, an EIS evaluates the combined influences of a project.
Ways you can help
While the permitting process is getting underway, there are many ways to help:
✔ Make sure you participate in all upcoming "scoping sessions" and public hearings. ✔ Provide written comments on all applications once they are filed.
✔ Write your state legislators, Governor Mills, Maine's Congressional delegation and local selectmen. Your voice matters!
✔ Write letters to the editor of local and statewide newspapers.
✔ Talk to friends and neighbors.
✔ Follow us on social media and share with your networks.
✔ Consider making a donation to support this effort.
As a reminder, here are some of the key reasons why this project is bad for Maine and our bay:
It will end the balance that has existed for generations among the many users of the bay: the dozens of people who fish for lobsters, scallops and mussels; clammers; mussel, oyster and kelp farmers; year-round and seasonal residents; tourists and tourism businesses; researchers and educators; and recreational boaters. That balance and the health of the bay is now threatened.
It will take prime fishing ground from lobstermen and impact other fisheries, like scallops, shrimp and mussels.
This industrial development has no place in the waters off Acadia National Park, a key driver of Maine's tourism economy and a crown jewel of the national park system.
The company will be using experimental semi-closed pens that have never been used on a scale this large anywhere in the world. They could never build a project this large or pack fish so densely in pens in their home country of Norway. So, why here?
There will be water pollution from billions of gallons of effluent produced daily by fish waste and feed, more than 2000 times the effluent from Bar Harbor's waste treatment plant.
There will be air and noise pollution from 40 diesel generators burning 3-4 million gallons of diesel fuel annually to power pumps and lights, plus light pollution at night from the 30 illuminated pens. A land-based incinerator will burn the sludge biproducts.
The likelihood of fish escapes, die-offs and disease that will impact other species and organisms.
Opposition groups
Please join one of these groups for the latest information and to support their role as leading opponents of the American Aquafarms' proposal.
Friends of Frenchman Bay https://friendsoffrenchmanbay.org
Friends of Eastern Bay www.friendsofeasternbay.org
Friends of Schoodic Peninsula www.facebook.com/salmonproposal/
Protect Maine's Fishing Heritage Foundation www.protectmaine.com
Key agencies
Maine Department of Marine Resources U.S. Army Corps of Engineers Patrick Keliher, Commissioner Jay L. Clement, Senior Project Manager 21 State House Station Maine Project Office Augusta, ME 04333-0021 442 Civic Center Drive, Suite 350 www.maine.gov/dmr/aquaculture/index.html Augusta Maine 04330 [email protected]
Maine Department of Environmental Protection
Melanie Loyzim, Commissioner
17 State House Station
28 Tyson Drive
Augusta, Maine 04333-0017
www.maine.gov/dep/contact/index.html
Governor and Congressional Delegation
Governor T. Janet Mills
1 State House Station
Augusta, ME 04333
207-287-3531
www.maine.gov/governor/mills/contact
U.S. Senator Angus King
202 Harlow St., Suite 20350
Bangor, ME 04401
Phone: (207) 945-8000
www.king.senate.gov/contact
U.S. Rep. Chellie Pingree
2 Portland Fish Pier, Suite 304 Portland, ME 04101
(207) 774-5019
pingree.house.gov/contact/
U.S Senator Susan Collins 202 Harlow Street, Room 20100 Bangor, ME 04401
Main: (207) 945-0417
www.collins.senate.gov/contact
U.S. Rep. Jared Golden
6 State Street, Suite 101
Bangor, ME 04401
(207) 249-7400
State Legislators who represent towns on the bay
Hancock County Gouldsboro, Hancock, Sorrento, State Sen. Louis Luchini Sullivan, Winter Harbor P.O. Box 1311 State Rep. William "Billy Bob" Faulkingham Ellsworth, ME 04605 P.O. Box 121
(207) 664-4699 Winter Harbor, ME 04693 [email protected] Cell: (207) 460-6967
Bar Harbor, Lamoine, Mt. Desert Trenton
State Rep. Lynne Williams Rep. Nicole Grohoski 13 Albert Meadow P.O. Box 1732
Bar Harbor, ME 04609 Ellsworth, ME 04605
Cell: (207) 266-6327 Cell: (207) 358-8333
[email protected] Ni[email protected] Town governments
http://www.barharbormaine.gov
https://www.gouldsborotown.com
http://www.hancockmaine.org
http://www.lamoine-me.gov
http://sorrentomaine.blogspot.com/p/town-office-info.html
Bangor Daily News
Portland Press Herald/Maine Sunday Telegram
https://www.pressherald.com/reader-services/letters-editor/
The Ellsworth American
(350-word limit for letters)
Mount Desert Islander
(350-word limit for letters; 500 for op-eds)