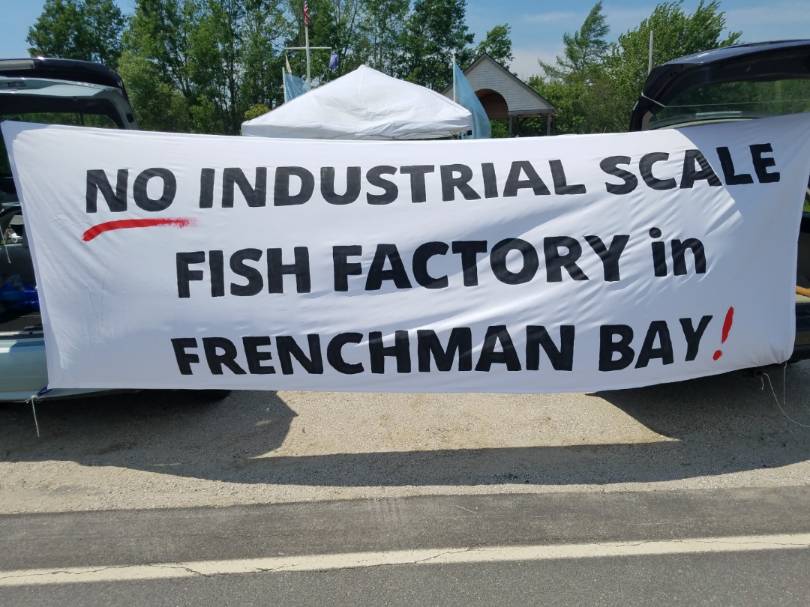 Banner at the road, behind the Frenchman Bay United (local groups working together) table at the Gouldsboro AA presentation. WABI covered it, and will have the piece on the 6pm TV news.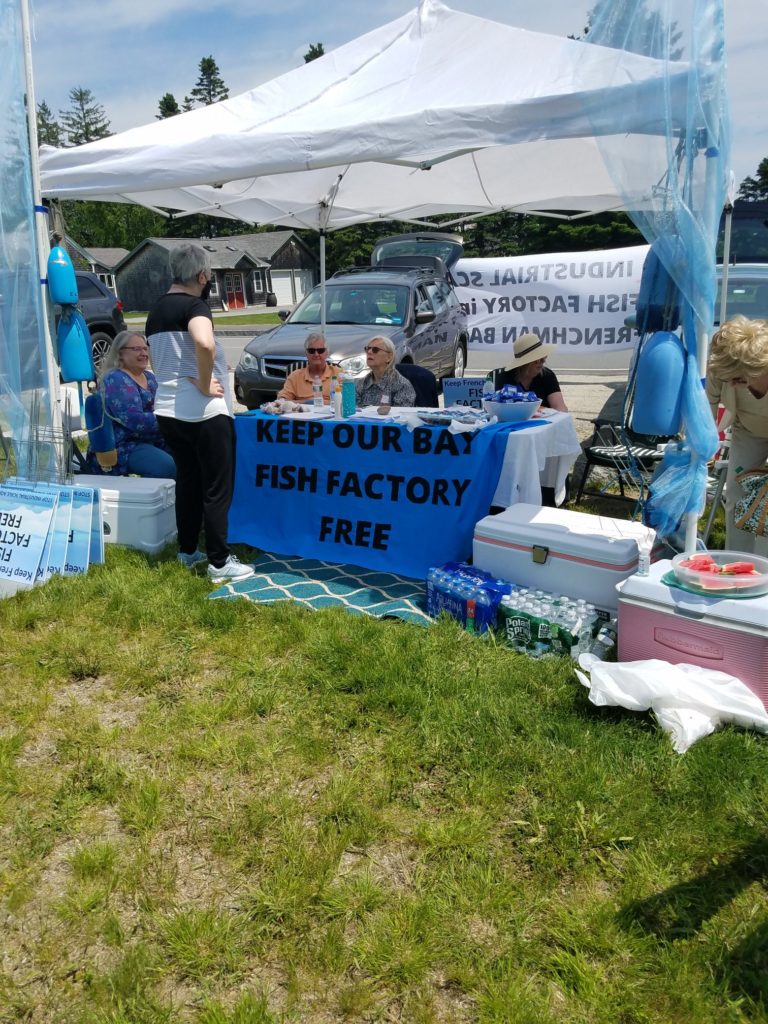 The DMR has posted Draft Standard Lease Applications for American Aquafarms proposed lease areas near Bald Rock and Long Porcupine Island. Scoping session is set for 6/23/21.   Please email the DMR at [email protected] and request that the scoping session be held in person as well as on "zoom". Link to rules regarding scoping sessions: https://www11.maine.gov/dmr/aquaculture/forms/documents/Scoping_Scheduling_ApplicantGuidance.pdf  
The DMR has deemed the "draft" applications as adequate to conduct a scoping session, but they have not been found complete. The purpose of the scoping session is to collect information on the draft applications from the public. It is not a public hearing, which is required once the DMR deems the applications complete. The two (sites)draft applications are available at: https://www.maine.gov/…/leases/draftappaabaldrock.html
https://www.maine.gov/…/draftappaalongporcupine.html  
The DEP application is in process. Here is a link to the very large (yet still incomplete) volume of application materials: https://www.maine.gov/dep/ftp/projects/american-aquafarms/applications/mepdes/    A couple weeks ago we were told the Department had 15 working days to determine if the application is complete. If it is deemed complete, then the 20 day clock begins for a request for public hearing/Board jurisdiction requests. At that time DEP was still reviewing the application for completeness. Apparently since the application had not been deemed "complete ", when we previously asked that letters be sent asking for a public DEP hearing, those letters we all sent did not count! FFB will reach out again asking for emailed letters, when we are told the application is complete. 
https://www.foxbangor.com/news/item/concerns-over-proposed-salmon-farms-in-frenchman-bay/?fbclid=IwAR0Fz68mc33UeHeeCjeJsLtS78BPcswWGWtEf-_sa6wHCXnnVLw4kDt3_FE