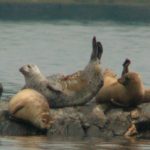 Welcome to Friends of Frenchman Bay. Thanks for your interest. We need you!.
Frenchman Bay is a breathtaking and wild ecosystem, bound on two sides by Acadia National Park. Friends of Frenchman Bay is a group of people who live in towns around the Bay or visit this unique spot on earth. We care deeply and are working to protect the Bay from large scale development of an outsized cruise ship pier proposed for Bar Harbor. We value the dark starry skies, the marine life, the cold, clear waters, and clean air.
We know that a development of this size will forever change the intrinsic natural qualities that make Frenchman Bay a beloved national treasure. No environmental assessments have yet been undertaken and the project is moving ahead at rate of speed we did not anticipate even 12 months ago.
Please contact us through our Facebook page or via the email icon on this page. Donations are accepted at Friends of Frenchman Bay, Box 533, Mt. Desert, Maine, 04660. Donations can also be made at the Change.org site link below:
https://www.change.org/f/help-us-save-frenchman-bay?recruiter=3191178&utm_source=fundraiser_show&utm_medium=copylink
Follow the link below to a Change.org petition made by one of our supporters, asking the Maine State Legislature not to pass Port Authority Legislation for Bar Harbor (LD #1400, coming up in January 2018), as the State level is the only avenue available for those who live outside of the Town of Bar Harbor to have their voices heard.
https://www.change.org/p/sen-thibodeau-and-rep-gideon-maine-state-legislature-save-frenchman-bay-and-acadia-national-park-maine-from-a-mega-cruise-ships-pier
We are an all volunteer Community Association.
These gifts of unspoiled nature cannot be assessed in financial terms. "Once destroyed, nature's beauty cannot be repurchased at any price." – Ansel Adams