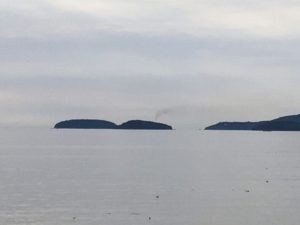 January, 2018, Bar Harbor Port Authority Legislation LD#1400 will be taken up again by the Transportation Committee, State of Maine Legislature. The Port Authority is an entity to raise bond money, and has many powers, including Eminent Domain and Sovereign Immunity. Bar Harbor becomes a Branch of the Maine Port Authority- a State entity which will happen to be in Bar Harbor.
Property of the State( see link below):
http://legislature.maine.gov/legis/statutes/23/title23sec4424.html
Bar Harbor will loose control because inherent Maine Port Authority Statutory powers will be in the hands of big corporate sympathizers on the Port Authority Board. Five or six people will make decisions affecting the whole region. The deck will continue to be stacked; we have already seen "poison pill" and take back clauses in State Option to Buy language, as well as open visioning sessions becoming preselected focus groups. We contend that Home Land Security regulations will govern such huge infrastructure. The mission of the Port Authority is clearly seen on its website, and as evidenced by official actions to date.
The Port Authority is how 30-40 million dollars can be raised, via State Bonds, to pay for the immense infrastructure project. The residents of the State of Maine will then be paying for this cruise ship industry pet project.
LD #1400 could be revised in the Transportation Committee to reinsert the Governor's appointee (which appeared in the original draft).
If LD #1400 passes the Committee, it will go to the full Legislature for a vote. If LD #1400 passes the Legislature, the question "do you want a Port Authority?" will go to the Town of Bar Harbor for a vote in June of 2018.
Read LD #1400 here: https://legislature.maine.gov/legis/bills/bills_128th/billtexts/SP047801.asp